Happy Tuesday Friends! Today I am linking up with
Trina: The Ordinary to Extraordinary Classroom
for her brand-spankin' new Meet the Teacher Monday linky party. I know I'm not linking up on Monday, but if you check out the introductory post, Trina says it's ok if you don't link up on Monday (see, I do know how to follow directions! :o)
So I am supposed to share my vision board:
I don't make any New Year's resolutions this year, as I never ever follow them...but I suppose I can handle having a vision for 2014 (I know, same-difference, but we'll see).
1. Where did I win in 2013? Hands-down, my new job! Everyday I am more grateful for this opportunity and so glad that I took the "plunge." I truly could not be happier :o)
2. Where did I lose in 2013? Finances for sure. Loans, loans, loans. I do love my job and I went to a great college, got a wonderful education, and had some amazing experiences...but I am so DONE with paying back my loans. It seems I just never get ahead.
3. What did I learn? To take chances. Changing jobs was one of the most stressful, nerve-wracking experiences, but I am so glad I did it.
4. Where do I want to be this time next year? I want to be looking back at some incredible memories from 2014 - hopefully one of those memories will be of running a 5K (I have got to start somewhere). Still loving my job, having a bigger TpT store, and hopefully a little extra "play" money.
Click on Trina's button to find out more about Meet the Teacher Monday and link up!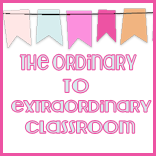 Thanks for reading!