Today's post will be a linky 2-for-1! I am linking up with
Farley's Currently
*yay* and Jennifer's A Peek at my Week!
I am LISTENING to Army Wives on Netflix. This used to be one of my favorite shows, then when they changed the cast, I decided I wouldn't watch it. I caved and watched season 7 the other day, so now I had to start over from the beginning again.
I am LOVING our 10-day forecast! It finally looks and feels like spring here in Western Massachusetts! :o) My allergies are not thrilled, but I will deal; I love the springtime! Those are finally 60s and 70s that I see!
I am THINKING about the 39 days that we have left of school. Yes, you read that correctly...THIRTY-NINE days! We start school after Labor Day...teachers begin on Tuesday and students begin on that Thursday, therefore, we still have 39 days to go. Our last day is June 26th.
I am WANTING a day at the beach. I am pretty sure that if I were to look back at all of the currently's that I have posted in the last year, they would all have something about the beach in them. Hopefully Memorial Day weekend!
I am NEEDING to get organized for Mother's Day. I have shopping to do for Mom and Grandma...and with the test-prep, Poetry Night preparations, and Student Treasures publishing that we have been working on, I haven't started my Mother's Day project with my kiddos yet. I have lots to do this week.
SURPRISE
, Theresa and Robyn! I adore
Pinkadots Elementary
. These two ladies have outstanding ideas and are lots of fun to follow. If you don't know them, head over and check out their amazing blog. During this teacher appreciation week, I would like to thank you, Theresa and Robyn, for inspiring me to be a better teacher with your incredible ideas. :o)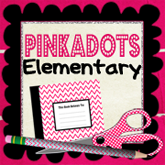 Now, for a quick, peek at my week! Jennifer at
Mrs. Laffin's Laughings
hosts the weekly A Peek at my Week. This is going to be a pretty exciting teacher appreciation week!
Our state department of education has some new CCSS resources. One of these resources is a model unit for determining literary themes using Tuck Everlasting. I want to try out this unit, but I know that the majority of my kiddos will not be reading this text independently, so I am tweaking the lessons to use as Tuck Everlasting as a read aloud. We will begin this unit this week. You can find the link to the model unit
here.
This our last week before our math MCAS. That means that this week we will be finessing up our final topic, which happens to be geometry and prepping for THE TEST! I cannot wait until testing is over for the year!
So much to do. I will be using my writing time this week to complete our Student Treasures book publishing work, the kiddos' Poetry Night presentation boards, and our Mother's Day projects. I completed these Mother's Day projects with my kiddos last year and they came out very cute. You can check them out in my
itty-bitty TPT store
that is on sale for the teacher appreciation event!
Tomorrow is my final college class. That means I have lots of grading and grade inputting this week. I cannot believe how fast this class by, but I am looking forward to having the opportunity to teach another class in the future!
If you follow me on Instagram, I posted this little gem this weekend:
My family, 2 amazing teamies and I will be attending a reception on Thursday to celebrate all of the winners of the Excellence in Teaching Award! :o)
Thanks for sticking with me through this rather lengthy post. Happy Sunday and have a wonderful teacher appreciation week!